Michael's Super Fantastic Food Reviews- Crunchwrap Supreme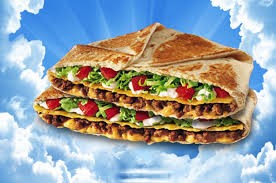 Hang on for a minute...we're trying to find some more stories you might like.
The Crunchwrap Supreme is a staple of the Taco Bell menu. It is one of the greatest inventions that humanity has ever created and is a gift of happiness to all who taste it.
The Crunchwrap Supreme is made out of perfectly cooked and seasoned ground beef, freshly cut lettuce and tomatoes and grated cheese, mixed in with sour cream and nacho cheese, and in the center of this is a crunchy tostada shell. All of this is wrapped inside a delicious tortilla baked to perfection.
To review this to the best of my abilities I ate Taco Bell three days in a row. It seemed like the Crunchwrap Supreme kept on getting better every day. My final review on this perfect specimen of human food engineering is that it's "pretty freaking good."