Have Tik Tok Downloads Skyrocketed Since Coronavirus?
Since 2019 the app TikTok has become popular to Gen Z because as a teenager myself we teens are not as into YouTube videos like we were in middle school mostly because we don't have enough time to get through one whole video at a time and because we would rather just watch something shorter. Due to the Coronavirus pandemic, the app became very popular to almost all generations. On the  TikTok app you can find many different videos that last for 15-60 seconds long. Some videos you can find on your "for you" page vary from funny, wholesome, and knowledgeable, to dances created by others.
TikTok has had about 800 million active users since Coronavirus started and since we were all quarantined on March 13, 2020. Some adults and seniors have grown so bored of being in quarantine that they took to the app as well and post daily TikTok's and have become famous and well known on the app. I feel like people got so into the app because there's a lot of interesting videos about stuff we don't necessarily learn in school and because it keeps everyone distracted because it became a daily routine to spend an endless amount of time on the app. Most teens also enjoy making TikToks and interacting with others on the app and their friends as well. The app has had many positive effects on today's generation when it comes to entertainment and interaction during quarantine.
About the Writer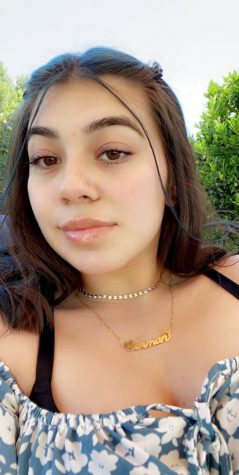 Alize Perez, staff writer
Hi, my name is Alize Perez and I'm a junior at Elsinore High School. I'm a really laid back person that likes to have fun with my friends and family...