Yellow Ribbon Week
Yellow Ribbon Week is a part of the National Suicide Prevention Week. The program began in 1994 after the suicide of Mike Emme.
Suicide and depression are always tough topics to talk about aloud to someone when you try reaching out for various reasons. Some reasons some people don't talk about their thoughts are usually because they feel that they don't have a safe space, they're scared of what the person they're reaching out to might say, they don't want to be a burden, and they don't want to worry their loved ones. Suicidal thoughts and depression are not easy to talk about and that's what people struggle with the most.
This week at school we are partaking in Yellow Ribbon Week: on Tuesday we could go to breakout rooms on zoom for an hour to talk to our counselors about anything we need, on Wednesday we made sure to share positive words with friends, on Thursday we texted 5 friends to reach out and check on them, and finally on Friday we wore red or yellow to show our support and that we are with Yellow Ribbon Week.
This summer an old friend of mine took his life due to cyberbullying and it was painful to accept because it's never easy to handle suicide or depression and he was a great friend to many and he's missed everyday. I hope that this can spread awareness to everyone dealing with depression or suicidal thoughts because no matter how tough stuff gets there is always someone who is going to listen and someone that cares no matter how much you feel like there isn't. You are loved. You are important. And you are not alone.
About the Writer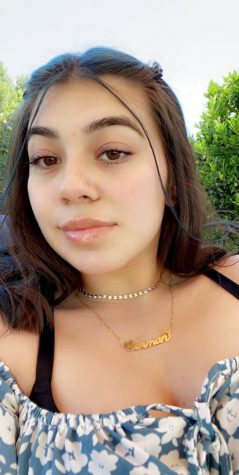 Alize Perez, staff writer
Hi, my name is Alize Perez and I'm a junior at Elsinore High School. I'm a really laid back person that likes to have fun with my friends and family...