The Effects of Technology

There are many effects of technology, both negative and positive. Even through we have evolved with it through the years there still are some cons to it. Most teenagers and adults have grown up with technology or while things were being created so it's safe to say that they know the way around with technology. But this could actually have many negative effects. One of many is that it could distract them from their school work or homework. Even through we are having a hard time right now because of the pandemic and we need to use computers, tablet, or phones, this still applies because we have an easy way to get to them. We could also have our cameras off during our zoom meetings so we don't have our teachers to get us back on track.
Having technology also has an effect on both mental and physical health. We've had technology since we were born and so we had it to play on, to talk to others, to read, etc. so there was no "need" to go outside a lot and play with others. We missed out on most physical exercise. But there are still many positive effects. One of them is that technology is being a huge help for schools and jobs since we can't be close to each other. One huge positive is that if there is an emergency then we can call for help. One more thing is that we can stay in contact with relatives that live very far away where it's too far for a drive up with just car. There are many more positive and negatives for technology and the list goes on and on.
About the Writer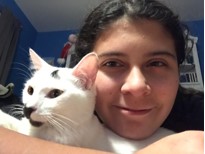 Sarah Hunt,
My name is Sarah Hunt. I am really shy when I first meet you but after some time I'll start warming up to you. I like to read a lot and to draw. I also...