Remembering 9/11
Nineteen years ago on September 11th, a tragic fate in Manhattan occurred, taking the lives of over two thousand people. This was an act of terrorism that we all seem to look back on, for this was an event which shall never be forgotten, a moment in which two towers known as the World Trade Center would fall due to the sudden crashes of  planes. Today, we will look back at 9/11, and remember how it all happened.
The Beginning:
The terrorist group known as Al-Qaeda with their leader Osama bin Laden had created a plan. Their objective was that they would have to hijack multiple airplanes and crash them into the World Trade Center, the Pentagon, and the White House. Back then, there was a lack of airport security; therefore they were able to bring aboard blades, such as knives and box cutters. With their weapons, they were able to take control of 4 planes, and each aircraft shares a different story.
The Tragedy:
At 8:46 AM, Flight 11 crashed into the North Tower. Many in the outskirts looked up to the sky in fear. The screams of many filled the streets of Manhattan. At 9:02 AM, flight 175 had crashed into the South Tower. News networks such as BBC, CNN, and Fox News had been reporting on the incident constantly. Around this time, George W. Bush is aware of the threat, but is currently in a school classroom with children and chooses to continue with their lesson rather than worry them. At 9:37 AM, Flight 77  crashed into the western side of the pentagon. Around 8 minutes before the attack, Bush made a public statement regarding the terroristic actions. At 9:59 AM, the South tower had collapsed. The dust had created a huge mist in the sky, making it hard for people to see and breathe. At 10:03, it was reported that Flight 93 had crashed in the southeast of Pittsburg in Somerset County in Pennsylvania. This plane was planned to crash into the White House, but fortunately the passengers aboard were brave enough to sacrifice themselves to prevent this from ever happening. At 10:28 AM, the North Tower collapsed.
The Aftermath:
This travesty affected the whole country. and many lost loved ones. Because of that day, many have been given more paranoia and anxiety because on that day, many witnessed the worst terrorist attack in U.S. history. Due to this nightmare, airports have advanced in their security systems, and anything that is weapon related, such as blade related utensils, are not allowed on board. Never Forget 9/11.
About the Writer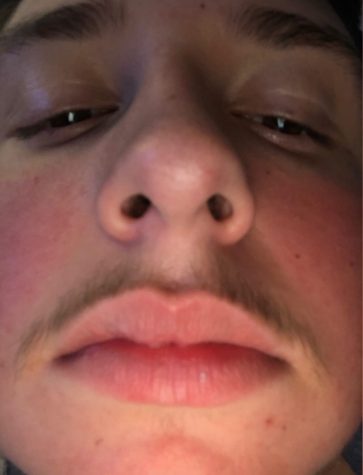 Brenden Huffman, staff writer
Hi, I'm Brenden. I like to listen to musi, and play video games. I was born in Fullerton and grew up in Placentia. My favorite bands are Nirvana and...