Netflix "Cheer" Star Charged with Child Pornography
Jerry Harris, co-star of the 2020 Netflix original documentary Cheer and well-known "cheerlebrity" throughout the competitive and all star cheer world, has recently been investigated by the FBI and charged with the procession of child pornography. There are documented records of several pre-teen minors from Jerry's local all star gym, Cheer Athletics, as well as text messages providing evidence, showing Harris asking a 13 year-old fellow male cheerleader to produce explicit sexual content of himself.
La'Darius Marshall, former Navarro and CA Wildcats teammate, broke the silence on Instagram. "How could this happen?" he said. "As a victim of sexual abuse as a child, I know all too well the pain of experiencing this type of abuse and the difficulties it can create for life after such trauma." He continues: "This type of behavior only ruins lives and damages everyone around you. This will not be acceptable behavior now or later in the future. We must protect our children. I pray for healing for everyone involved."
Gabi Butler, also a former Navarro teammate and fellow "cheerlebrity," took to social media to express her concern on the topic entangling her close friend. "Ever since I heard the news, I have gone back and forth between sobbing uncontrollably and trying to wrap my head around why something like this could happen," she stated. "To be clear, although I have been a close friend to Jerry, I was never aware of anything like what he has been accused of taking place," she adds, and "I believe the protection of children is more important than ever in today's world and absolutely do not condone any actions that bring harm to a child."
Many of Harris's teammates and fans are both shocked and horrified by the current news. When the six-part docuseries was first shown in January of this year, audiences adored Jerry for his spunky, positive attitude and his famous, motivational "mat-talk," which is used by many competitive cheerleaders, hyping up their teammates' performance, to this day. As a cheerleader very dedicated to her sport, I find that Jerry's current situation is very heartbreaking. It's a bitter pill to swallow, but piggy-backing off of both Gabi Butler and La'Darius Marshall's comments, I too, believe these sexual acts are intolerable and my heart goes out to any individual involved in the current issue being brought to light.
About the Writer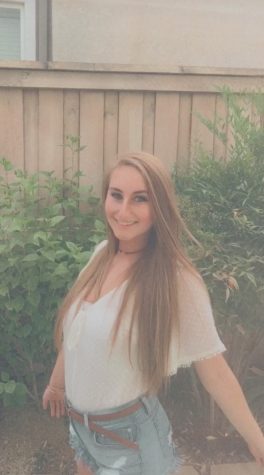 Kate Walker, Editor/Instagram Manager
Katelyn is a senior at EHS and has been the editor and Instagram manager for Tiger Times for two years now. She has been a varsity cheerleader for four...