Hamilton the Musical
Hamilton the Musical is about Alexander Hamilton and how he was able to come to the United States and his life. Lin-Manuel Miranda has been working on the music since 2009. The reason he wrote about Alexander Hamilton is because he read a book about Alexander, which was by Ron Chernow, and was inspired to write a musical. Once he finished the first song he was able to perform it at the White House in 2009 with Alex Lacamoire on the piano. Back in 2015 to 2016 Hamilton the Musical started off-Broadway then went to Broadway. No one in the cast knew the musical was going to be that big. It's rare that a musical can be this good. There's a good chance that a musical can last long because they don't have the money to continue after a couple of months. This musical got so big that the cast got famous and a couple of them were in a show or a movie. But some of them still stick with just Broadway. Recently Disney+ added Hamilton and I was finally able to see it. I thought it was very well done and that Lin-Manuel Miranda and Alex Lacamorie did very well on the music.
About the Writer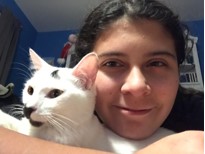 Sarah Hunt,
My name is Sarah Hunt. I am really shy when I first meet you but after some time I'll start warming up to you. I like to read a lot and to draw. I also...