The Frustration of this Year
This year has been very crazy with coronavirus going around and the presidential election going on. Many people have their own frustration for themselves. My frustration this year is that I can't really leave the house and go anywhere. I'm not the person that usually just stays home all the time.
I like to leave the house even if it's just going to the store for food. I also get frustrated with school sometimes. There will be times when I do get a low grade on an assignment or a test and my grade goes down to a C. It's also frustrating when I have trouble on an assignment, mostly math related, and everyone is busy with their own stuff but you have to remember that people are dealing with their own stuff. Mostly teachers having only so long to get ready before the year started then having to help and teach the students. Then there's the presidential election and waiting to know who will be president and the fact that the remaining states are still counting their votes, but Thanksgiving and Christmas are close. Hopefully next year it will get better because i hated this year so far for noticeable reasons. The only thing we can really do is stay hopeful and hopefully this well get settled soon.
About the Writer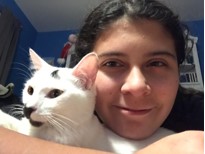 Sarah Hunt,
My name is Sarah Hunt. I am really shy when I first meet you but after some time I'll start warming up to you. I like to read a lot and to draw. I also...