The Nintendo Switch Lite
The Nintendo Switch Lite is different from the Nintendo Switch. The main difference is that you can't connect the lite to the TV. Some other difference is that the Lite is more handheld so it fits more comfortable in your hand than the Nintendo Switch.
There are more games for the Nintendo Switch but there are still many games for the Nintendo Switch Lite. The one game I've seen many people are playing is Animal Crossing. I recently got the Nintendo Switch Lite for my birthday and it's fun to play. It's also fun because you can go visit your friend's island or they can come visit your island. So it's fun because of the whole Corona Virus so I can talk to people other than texting. There are a couple things you can do in Animal Crossing. You start off with a tent but then you get to create a house. You help create a store for the community. You also get to name the community. You can do many other things in the game.
I enjoy the Nintendo Switch Lite. I think it's fun and I take it with me when I'm traveling or when I have some free time or right before bed. So I like the Nintendo Switch Lite more then the Nintendo Switch. (But do use this if you're deciding which one to get, I only have the lite).
About the Writer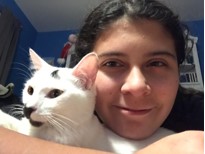 Sarah Hunt,
My name is Sarah Hunt. I am really shy when I first meet you but after some time I'll start warming up to you. I like to read a lot and to draw. I also...