How I Spent My Winter Break With Having Covid
The week before winter break began my sister came home to visit my family and me. The day after she came home she began to feel very sick as well as my mom. During that time I had to write a story and I wrote it on "Living In A House With My Family Having Coronavirus." At that time, I felt perfectly fine, no symptoms at all, but we all knew the best thing to do was for all of us to get tested. My oldest sister tested positive first and a few days later so did my mom and I. A few days after getting tested I began to get the symptoms. It started with extreme headaches 24/7, a runny nose, body aches, no taste, and no smell. Thankfully I tried the charred orange with brown sugar hack from Tik Tok and I got my taste back immediately toward the last few days of having Covid and I am completely recovered.
While on my 14 day quarantine, I felt very lonely. I tested positive for covid as well and I felt like I lost everything because I wanted to spend everyday with my best friend who is also my boyfriend because he's the only person I ever hang out with anymore. I spent my break sick and sleeping a lot, but now I see my boyfriend frequently and I can finally go to the store to get essential things. During my quarantine I  watched a lot of TV and did a whole lot of sleeping and drinking tea. I did get very lonely in my thoughts and felt depressed, but I was stuck on the though of being Covid free again. Covid is very real and it affected my mom heavily and it didn't feel good seeing her in pain. I'm happy we're well now, but if you don't want this to happen to you or anyone you know, wear your masks!!! Be safe everyone!
About the Writer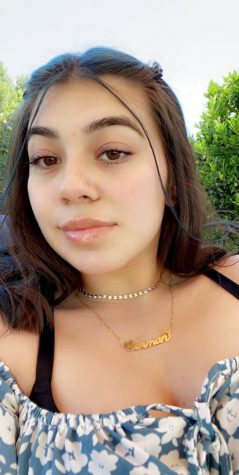 Alize Perez, staff writer
Hi, my name is Alize Perez and I'm a junior at Elsinore High School. I'm a really laid back person that likes to have fun with my friends and family...