Senior Parking Spots!
This week our senior students have been painting their parking spots on campus, and they're AWESOME! Every year our seniors paint whatever they choose to on their spot and they have friends and family to help them. Our proud Elsinore High seniors have worked hard the last three days painting their spots and they all look so happy despite the year we've all had. The seniors have gotten very creative and have had a ton of fun with friends and family which is definitely much deserved for the year we've had. This is the first normal event our seniors have had this year since everything has been done virtually and Covid rates have gone up and down leaving students and everyone uneasy about going out. There are many great photos I'm going to share today to give everyone a glimpse of what the last three days have been like for the seniors and their parking spots.
As seniors work hard on their parking spots Mrs.Hofmann captured some great memories to share with us on the @elsinoreasb Instagram page which you should definitely check out for any updates, school activities, or any information you may need to know.
Here are more of the precious captured memories of our seniors and their parking spots.
About the Writer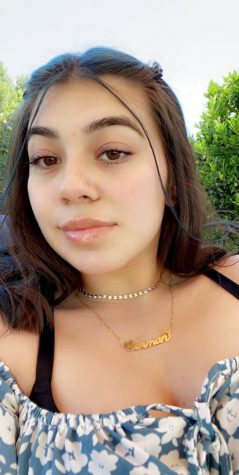 Alize Perez, staff writer
Hi, my name is Alize Perez and I'm a junior at Elsinore High School. I'm a really laid back person that likes to have fun with my friends and family...