EHS Red Cross Club
This past week I was able to message with the president of Elsinore High Schools first Red Cross Club, Khushi Patel. Khushi is a sophomore and has been volunteering for Red Cross for the past two years. During this time, she has done things such as participating in meetings and blood drives. When first reaching out to Khushi she told me that the other members of Red Cross inspired her through their hard work in the program. They also showed her that there is more to do to help than giving blood.
Khushi began the Red Cross Club and was able to get it approved by the Riverside Red Cross Foundation. When I asked Khushi why she wanted to start this club she responded with "I wanted to start and build this club and reach out to our community to help people whether it is in emergency preparedness, learning CPR and eventually getting people certified, or sending cards to members of our community."  Khushi reached out to Robbie Harrison who agreed to be the advisor of the club.
When each board member was asked about their thought on the club and being in a leadership position, they all replied with an inspiring response. Advisor Robbie Harrison said, "I wanted to be the advisor for the EHS Red Cross club because I thought that it would be a great way to teach people how to help others and be involved within their communities." Vice President Thien Pham said," I joined to become a spark of inspiration to others, showing other that they can become a change in the world, even if it is online." Treasurer Azalea Kasiri stated, "I joined because of an influence Thien and Irene had on me causing me to want to join." Secretary Irene Dait-Leiataua replied, "I joined because I wished to experience something new and out of my comfort zone." Social Chair Hailey Leffler answered, "I joined because it was a way to get community service while still having fun and learning how to help others." Social Chair Joanne Quan replied, "I joined because this club sounded really interesting. I heard about all the work Red Cross does and wanted to be a part of it." I believe this club is going to do so much good in our community and anyone interested should join to learn and make an impact on our community.
About the Writer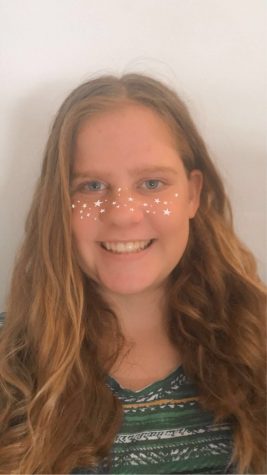 Haley Petitt, staff writer
My name is Haley Petitt. My favorite color is blue and my favorite food is breakfast burritos. I love animals, and my favorites include horses and goats...