Elsinore High Academic Decathlon is Recruiting!
EHS Academic Decathlon's 2020-21 competition year has ended! Starting during the summer of 2020, the team worked together virtually all year to prepare for competition in February and March of 2021. Testing on the theme of the Cold War, each decathlete showed their knowledge in the seven objective subjects: art, literature, music, social science, math, economics, and science. Continuing their testing with the three subjective events–speech, interview, and essay– each member did great and made their team proud!
Leaving the legacy of 1st place at county for the 5th year in a row, and 5th at state for the first time in their history, EHS Ac Dec is making great strides and is now looking for new members for the 2021-22 competition year! As one of the top teams in the nation (10th place as of 4/25/21) being on the team is an excellent experience, and you don't even need great grades to join! Currently looking for students with less than a 3.75 GPA to compete, Coach Ryan Klopp encourages students of all grades to check out the club if interested.
While Academic Decathlon seems like a lot of work and no fun, it's not! Yes, a lot of work, effort, and time go into the program by each member, but it is also incredibly fun when you get into it! The new theme for the 21-22 competition year is "Water: A Most Essential Resource" with each objective event focusing on an aspect of water.
Science: An introduction to marine biology.
Literature: A selection of short works relating to the theme and the novel The Sea-Wolf by Jack London.
Art: The impact of water on art, including subtopics such as ink wash painting, watercolor, water as a subject of art, and the use of water in architecture, sculpture, and environmental art.
Music: The many ways water has influenced music, from musical instruments that rely on water to compositions inspired by water.
Social Science: The impact of water on human history.
Economics: The fundamental economic concepts, microeconomics, and macroeconomics and a thematic section on the economics of water.
Mathematics: Permutations and combinations, algebra, and statistics. (Don't be worried, a lot of math is calculator work!)
Essay: A timed essay on one of the above-mentioned topics.
Speech: A prepared speech and an impromptu speech, prepared to be of any topic of the decathlete's choosing.
Interview: A short interview with a few judges to get to know you.
If any of the above subjects interest you, join the team! While some may seem difficult or uninteresting, still give it a shot, you may love Ac Dec! Contact Klopp at [email protected]
People in image, left to right: Joshtyn Hurtado, Jacob Gutierrez, Emily Davis, Lucy Garza, Ryan Klopp (coach), Yahir Paez, Ayleen Millan, Kathryn Elliott, and William Hoye.
About the Writer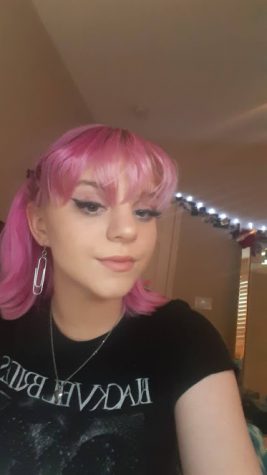 Katie Elliott, staff writer
Hi, I'm Katie! I'm on the Ac Dec team, and I love to take photos and read! :)