Lizbeth's Nail Business!
At Elsinore High School we have all faced a great struggle, but someone who turned some troubled times into an amazing experience and job is Lizbeth Soberanes! Lizbeth is currently a junior at Elsinore High and started her nail business in October 2020 as a beginner and since then has improved tremendously. Lizbeth has the love and support of so many friends and family and especially her boyfriend, Jose, who has been her biggest supporter and #1 fan since the beginning. Lizbeth is self taught and shares her amazing work daily on Instagram. (link is below).
As far as her future career, Lizbeth plans on going to nail school to further her knowledge of what she loves and she wants to be self employed after she finishes nail school. Lizbeth wants to make her own brands for acrylics and nail supplies as her progress builds up! Lizbeth says that what got her started was everything about the nail business, she has always wanted to be a nail artist, but she didn't start sooner because she felt like she didn't have enough patience and now that she started she doesn't plan on stopping! She told me her favorite experience so far as being a nail artist is seeing her own progress and how much she has grown and will continue to.
Based on reviews from Lizbeth's clients, we learn that Lizbeth is very kind, respectful, and an extremely hard and great worker. Her schedule is almost immediately filled with clients every week while still maintaining school. Lizbeth has come a long way from the beginning and we can't wait to see what else we know she can accomplish. Go contact her today and book an appointment asap! You won't be disappointed!
Link to Lizbeth's nail account: https://www.instagram.com/nailzzbyylizz/
About the Writer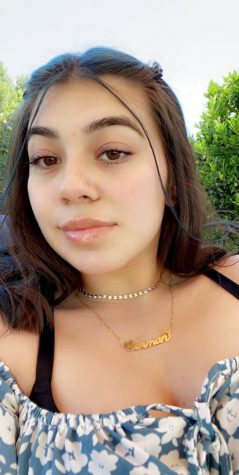 Alize Perez, staff writer
Hi, my name is Alize Perez and I'm a junior at Elsinore High School. I'm a really laid back person that likes to have fun with my friends and family...