10 Facts About Melanie Martinez
1)Melanie Martinez, best known for being a pop singer, was born in Long Island, New York, USA on Friday, April 28, 1995.
2) She was a contestant on the third season of NBC's popular reality competition singing series The Voice as part of Team Adam Levine. She finished as a Top 6 finalist.
3)Melanie Martinez attended Taft High School San Antonio and Tisch School of the Arts at New York University.
4)Her grandmother is the one who pushed her to sing, and Melanie went on to explore her musical endeavors by posting covers and original content on YouTube.
5)She is able to write songs when she is upset or mad because it helps her to release her feelings. It is difficult for her to write songs when she is happy.
6)She was known to be a very emotional girl. Her classmates used to call her a "cry baby" as she often cried when overwhelmed. Interestingly, she titled her debut album 'Cry Baby' on gaining success.
7)In February 2014, she self-released her debut single titled 'Dollhouse' along with a music video. Her initial music ventures were fan-funded and she was styled without any charges by her friends.
8)Her debut album 'Cry Baby' reached stores on 14th August 2015 and was met with immediate success. It went on to rank number 6 on the 'US Billboard Album 200' music chart.
9)At the age of sixteen Melanie Martinez boldly dyed her hair half blond and half back after watching the film '101 Dalmatians' in order to look like the character 'Cruella De Ville' which became quite a trend after she appeared on 'The Voice'.
10)In October 2016, she released her own fragrance called 'Cry Baby Perfume Milk' which was later distributed by her record label 'Atlantic Records', making it the first label to ever distribute a perfume.
About the Writer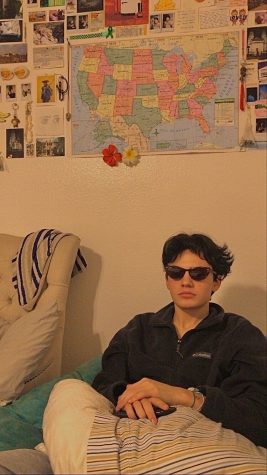 Alonso Velasquez, staff writer
Hi, I'm Alonso Velasquez, you can just call me Alonso. My favorite things to do are listening to any type of music, going to the beach because it's...