What I Will be Doing For Summer
So even though there is still a pandemic happening I still want to do something during the summer. I know there isn't much to do but I still want to attempt to do something fun. I for one want to do something relaxing before my last year in high school, so I want to at some point go to the beach at least once during the summer. I also want to get my sleep schedule back on track. I also want to be outside for a good portion of the summer. I want to maybe have a couple of picnics outside, maybe at a park, and I also want to get into gardening over the summer. I have many books to go through during the summer that I want to read.  I'm also planning to get a job before school starts so I can do some fun things during my senior year. I'm also on the color guard team at the school and I want to work on some new things and learn more tricks before the season starts. It might not look like it's a lot but it's something to do during the summer time.
About the Writer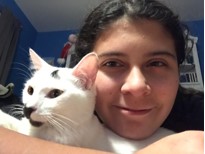 Sarah Hunt
My name is Sarah Hunt. I am really shy when I first meet you but after some time I'll start warming up to you. I like to read a lot and to draw. I also...