A Final Message From A Senior
Today on June 1, 2021 our senior class at Elsinore High School graduated. At graduation a senior of ours wrote a message to the class of 2021 and for many others. Kayleigh Kirkish wrote,
"Why didn't we listen? I don't mean the little things like when someone told us to do the dishes or get to work on an assignment but the biggest thing DON'T GROW UP. We heard it from our parents and our teachers, from our siblings and cousins. At some point, the "wow you're getting so big" turns into "what are your plans for the future?" We start to worry about what we look like and who we can impress. We at some point stopped wondering how the toilet got green on St. Patrick's day or how you managed to sleep through the reindeer on the roof. You forget the last time the tooth fairy came and aren't surprised when there are eggs in the yard. Right now, we sit here contemplating every decision that got us here, every moment with one another. Myself, I can't stop pinching my arm, waiting to wake up from this dream, and go back to being a little 1st grader in that play we did. But, with you all, I have grown up, and because of you all I have grown up, and now, together, we take that final step, and end our growing together, and begin to grow individually, as our own selves. We will still remember playing tag on the play ground, and trying to fit in during middle school, the kid making jokes in science class, and this moment. DON'T GROW UP. Right, we didn't listen. Now we sit here, thinking about how we got to this moment and how fast the time went. Wasn't it just yesterday that we were scared freshmen walking through the quad or going to our first dance, learning to drive, and wishing for that next bell to ring. But they warned us, they warned us that once we were faced with adulthood all we would want is to be a kid again, leaving our socks on the couch, running in the street and knocking on our friends' doors, finding our new favorite Barbie or toy car and holding our parents' hands. But all we wanted was to grow up, we thought it would be all fun and games and that you could do whatever you wanted, and now, now we sit here, alphabetically ready to gain a piece of paper that, technically, makes us adults. Wow, can you believe we fought them when they said, DON'T GROW UP. And now, we go and grow, we become the change in the world, and fight for the childhood of all the other kids saying they want to grow up. As we continue on, whether it's college, military, working, or even if you haven't decided yet, remember to slow down, to gain perspective and breathe. And in every opportunity, find the kid inside of you, find a way to stay young. DON'T GROW UP."
-Kayleigh Kirkish
We can all agree with Kayleigh's final message, as we all are reflecting on our lives with the approach of yet another school year. Some of us might be scared, ecstatic, nervous, and maybe even sad. It's understandable to feel all of these but like Kayleigh said, don't grow up. Enjoy every second of it while you can before it's too late, take in the good days and let them make up for the bad days. Class of 2021 is going to go on and do amazing things for younger generations and they're going to start their adult lives. We love and support all of our seniors on their journeys of life and hope for nothing but the best for the class of 2021. Never take anything for granted and remember these are going to be the "good ol' days" in 20 years from now for most of us. Relax, you're going to be just fine, you're doing great no matter what path you're taking and whatever your future holds, you will get through it. Congratulations class of 2021, we will always love you and never forget…once a tiger, always a tiger!
Our ASB President, Cameron Southwick also gave a speech at graduation and everyone can relate to the inspiring words that Cameron had to say. Cameron said,
"Remember that there is a lot of good that can come from a bad situation." -Cameron Southwick
Cameron gave a lovely speech and this quote from his speech is what stood out most. In life we all face challenges that we feel we can't overcome and Cameron made the statement that a lot of good can come from a bad situation based on how we go about it, choose to handle it, and how we learn from the situation. Everyone faces tough situations everyday, but what is most important is how we learn from it and pick up good habits to help us in the future. Thank you Cameron for being a great ASB President for Elsinore High School and congratulations to you and the class of 2021!
About the Contributor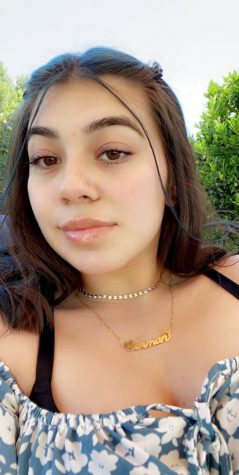 Alize Perez, staff writer
Hi, my name is Alize Perez and I'm a junior at Elsinore High School. I'm a really laid back person that likes to have fun with my friends and family...