Book Review: 'Kings of The Wyld' by Nicholas Eames
Kings of The Wyld by Nicholas Eames is probably my favorite novel of all time. It was the first book I read when I started reading frequently back in July of 2020. Since then I have read over 30 books, and while many of them are good, none of them have matched my tastes quite as perfectly as Kings of The Wyld.
"Kings of the Wyld is a rollicking, page-turning, edge-of-your-seat road trip of a book. Great characters, loveable rogues that I genuinely cared about and all manner of fantastical monsters. All spiced with a sly sense of humour that had me smiling throughout."

-John Gwynne
What is Kings of The Wyld?
Kings of The Wyld is the debut novel by author Nicholas Eames. It follows Clay Cooper, a retired member of a long since disbanded (and very famous) band of adventurers. Clay after all these years is trying to live a simple life with his family until one day, Gabriel, the leader of the band (Saga), is at Clay's doorstep begging for help. Gabe's daughter is caught up in a dangerous war on the losing side, and Gabe is trying to re-unite the old band to save his daughter. He needs Clay's help, since he was the only member who left on good terms with every other member. So Gabe and Clay embark on an adventure to reunite the band and save Gabe's daughter. On the road they have to conquer old age, bandits, bounty hunters, monsters, and more.
In case you haven't noticed, the bands of heroes in this book are allegories for rock bands. In these books bands of mercenaries are treated like rock bands, and subsequently the heroes act like rock stars. Bands even have managers. This book also contains several references to rock bands and rockstars. Each book is supposed to represent a different period of rock music; book one being the 70's, book two being the 80's, and the upcoming book three being the 90's. Each book is supposed to carry over common themes from each era of music.
This book is filled to the brim with both fantastic comedy (although a little crude at times), and powerful and emotional moments. Every character felt real, and every scene was cinematic and easy to visualize. This book was almost like a cross between Guardians of the Galaxy and Lord of The Rings.
"I liked this a lot, and I can see why it has done so well. Eames is an excellent writer and funny with it too. I very rarely laugh out loud at books, but I did once with this one."
– Mark Lawrence
Book two in the series, Bloody Rose, follows a different cast of characters, which is almost as good as the first (some people even like them better). There is also going to be a book three in The Band series which is set to release this November, although there has been no cover reveal yet.
About the Contributor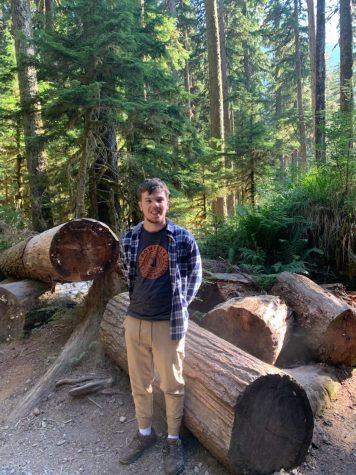 Carter Simpson, staff writer
My name is Carter, and I'm a senior. I like to watch movies, read books, and play video games. I like to talk about movies and entertainment, politics,...