Subcultures (Goth, Emo, Punk, etc…)
Goth: a subculture that began in the United Kingdom during the 1980s. It was developed by fans of gothic rock, an offshoot of the post-punk music genre. "Notable post-punk artists who presaged the gothic rock genre and helped develop and shape the subculture include Siouxsie and the Banshees, Bauhaus, the Cure, and Joy Division. Clothes include corset vests, corset belts, bell-sleeved blouses, poet shirts, peasant blouses, leather, lace, boots, crosses, cool black makeup, and  studded spiked armlets. The subculture has associated tastes in music, aesthetics, and fashion. The music preferred by goths includes a number of styles such as gothic rock, death rock, post-punk, horror punk, cold wave, dark wave, and ethereal wave. Styles of dress within the subculture draw on punk, new wave, and New Romantic fashion. It also draws from the fashion of earlier periods such as the Victorian, Edwardian, and Belle Époque eras."
Punk: The punk rock subculture began in the United States in the early 1970s as both a continuation and a reaction to the 1960s countercultural movements.  Punk began as a reaction against the music, idealism, and aesthetics of the 1960s hippie movements, but can also be seen as a continuation of the political and stylistic upheavals of the 1960s. British punks wore the sense of failure, hopelessness, and disappointment that many young people felt on their bodies for all to see. Bands like the Sex Pistols, the Damned, and the Clash were the music center of a new British subculture that exposed the ugly, chaos, and the outrage. Punks were wearing garbage, pins through their ears, and anything that would make them look different. Punks screamed about apocalypse, decay, and failure. Two bands that standout as being highly formative for punk were the MC5 and the Stooges. Generally, street punks wear leather, denim, metal spikes/studs, chains, and military style boots. Early punk fashion was vests with patches and pins, patched trousers and torn clothing.
Emo: The "emo trinity" bands include My Chemical Romance, Fall Out Boy, and Panic! at the Disco. Often, singers of these bands would sing about depression, societal problems, political corruption, parental resentments, and other problems. Young teens at the time felt misunderstood, lonely, and didn't fit in with mainstream culture. Emo subculture came from a fan base whose lyrics were more expressive and emotional than others. 200o's Emos wore the black súper skinny jeans, Converse or Vans, black eyeliner, tight t-shirts with band names, studded belts, and their Emo shag, bangs worn in a long fringe that is brushed to one side of the face, covering an eye.
Scene: Scene fashion consists of super skinny jeans, bright colored clothing, and the signature hairstyle, the Emo shag but with bright colored hair dye. The subculture became popular with teens from the mid-2000s to early 2010s. The Scene subculture came a few years after the Emo subculture. Most poplar artists are Asking Alexandria, Black Veil Brides, Attack Attack!, We Came As Romans, Bring Me the Horizon, Blood on the Dance Floor, Paramore, Mayday Parade, the Medic Droid, Breathe Carolina, and Escape the Fate.
E-kids: are a youth subculture that emerged in the late 2010s and is almost exclusively seen on social media, notably popularized by the video-sharing app TikTok. Usually is used as an insult to a person with poser like behavior. E-boys and e-girls are associated with "sad boy hours" music, a broadly defined grouping of musicians, who similarly write music influenced by sadness and mental illness, that often overlaps with emo rap. Outfits commonly consist of baggy, thrifted clothes. In particular, some e-girls wear mesh shirts, plaid skirts, oversized t-shirts, crop tops, platform shoes, chokers and beanies, while e-boys wear black and white striped long shirts or oversized hoodies and band merchandise layered over long sleeve striped shirts, and polo necks.
Grunge: The most popular early '90s looks was grunge. It entered mainstream fashion in 1992, when grunge bands like Nirvana, Pearl Jam, and Soundgarden. This look included darker colored plaid flannel shirts, stone washed ripped jeans, Doc Martens, combat boots, and high top sneakers. Embrace heavy layering and don't be afraid to let items clash. The grunge movement is best known for its distorted guitars, moody or apathetic lyrics, DIY ethos, and flannel shirts.
Decora: is a Japan fashion style that has become the face of Harajuku fashions internationally. There are no color restrictions in this category, with colorful hair and extravagant clothes, what matters is that there is no restriction. The style features bright colors and a large collection of accessories. Although the style's peak was in the mid-2000s, it is still popular and well-known in Harajuku. Their hair is usually dyed in bright colors like orange, pink, blonde, or even combinations of two to three colors. After that, they will style it in simple pigtails, braids, or curls. As far as I know Kyary Pamyu Pamyu is one of the many artists the Decora subculture listen to.
If anyone has anymore tips/comments feel free to talk to me about them 🙂
About the Writer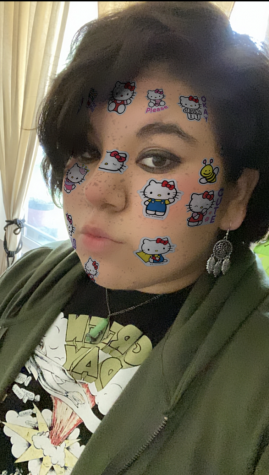 Abigail Neri, staff writer
Hi my name is Abigail Neri, I am a junior at Elsinore High School. I like to make earrings, bracelets, and necklaces. I also sing, draw, paint, and sketch....