City of Ashes and City of Glass Review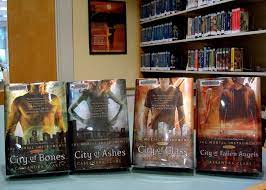 City of Ashes is the second book in the The Mortal Instruments series written by Cassandra Clare. And, in my opinion, it's one of the weakest additions to the series. City of Glass is the third book and, in polar opposite to the second, is, in my opinion, one of the best in the series.  This review will be for City of Ashes and City of Glass.
The reason why I think City of Ashes is a weak entry is because it's pretty boring. The only thing that really happens is Simon getting turned into a vampire, then a Daylighter. A Daylighter is a vampire that can walk in the sunlight despite the fact that almost all vampires cannot. Besides that, it's really just Clary and Jace pining over each other even though they can't be with each other because of reasons I don't even want to get into because it's very, very weird. All I'm going to say is that Cassandra Clare managed to create an actual reason why the protagonist and the love interest couldn't be together unlike some authors I've read before. I always felt like the events of City of Ashes could have just been tacked onto City of Glass without the excess and would have worked perfectly. I find myself feeling sorry for people who were waiting for City of Ashes to come out forever only to get a pretty lackluster book. At this point in the series, Clary is already thinking so much about Jace that she isn't even her own self anymore. She's defined by her love for Jace, and it's not that interesting. The side characters are now the most interesting aspect. Maia, one of my favorite characters, is introduced at the very beginning. It isn't that much of a memorable book. I actually thought that Simon was turned into a Daylighter in City of Glass because I remembered absolutely nothing about this book.
City of Glass is a much better look for the series. Cassandra Clare really takes a turn for the dark. One of the first major character, Max Lightwood, dies, leaving the Lightwood family and Jace in a state of grief. It's a bit slow at the start, but it quickly picks up as the war against Valentine begins to start. Magnus and Alec finally get together even though Alec's been struggling with the fact he's gay for the last two books. It's a satisfactory point in their relationship, especially when Alec realizes that he shouldn't let his parents' opinions dictate who he is as a person. Originally, this is where the series was supposed to end, but Cassandra Clare added three more books to The Mortal Instruments series. Some people think it should have ended here with the happy ending that Cassandra Clare gave us and that she should have contained the prequel series, The Infernal Devices. I think that the second half of the series is good, though. Characters like the vampire Raphael get a more in depth backstory. Camille finally makes an appearance. Jordan gets introduced. Jocelyn and Luke get married. I would have actually been disappointed if the author ended it here because there were some loose ends that she had yet to tie up.
About the Contributor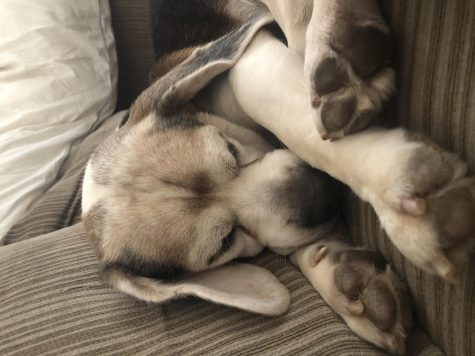 Allykay Williams, staff writer
Hi! My name is Allykay. I am a freshman at Elsinore High School. In my spare time, I like to write, read, draw, and play with my dogs. The dog in my picture...