My Wrestling Tournament
Yesterday I had a wrestling dual tournament with my team against North J.W High School. North being one of our biggest rivals, we had to be prepared and ready to get after it. Unfortunately before we could even wrestle a few of us had road blocks and couldn't make it to compete which was very crucial to the team making us put in back ups or moving up kids to higher weight classes. The tournament started out good with us scoring 19 to nothing. That took a turn when we had our back ups come against some studs on their team making the match even. Then it was coming close to my turn coming up and in order for us to maybe even tie the match me and my heavyweight guy had to pin our opponents. My turn came up, everything went how it was supposed to start, and then I blanked when I had my move. I had him right in the palm of my hand but I waited too long and he countered my move and pinned me. It was especially devastating to lose a match you knew you could win but I had to try to keep my head up and not show how upset I was. I let some of my emotions get the best of me and started to cry and it was the worst feeling I've ever felt because I knew what I had I just didn't use it. Dontei wrestled his match and put on a great match but he also got pinned.
About the Writer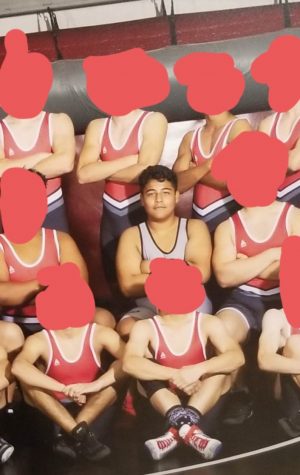 Eric Martinez, staff writer
My name is Eric Martinez. I wrestle for EHS, play ukulele, enjoy weight lifting, and boxing.