Books I Want to Read in 2022
There's a few books I want to get to in 2022. Some of them are new releases and some of them have been published for a little while. Here's some of the books I really want to read this year.
To Paradise by Hanya Yanagihara. Hanya Yanagihara gained a following with the publishing of her novel A Little Life which is famous for causing people emotional damage. I refuse to read it, because I would like to not be completely destroyed over a book. That being said, this book isn't supposed to be quite as harrowing as A Little Life. It follows three storylines, one in 1893, 1993, and 2093. The summary seems very interesting, and it seems to be right up my alleyway.
Heat Wave by T.J Klune. I've actually been waiting for this one to come out for a while. I read the second book in the series, Flash Fire, back in September and absolutely adored it, as I did with the first book, and was absolutely appalled that the third book in the trilogy wouldn't be out until July 2022. I'm still waiting for it, and I can't wait to get my hands on it, especially with the way Flash Fire ended.
The Burning God by R.F. Kuang. I know I just said that I would rather not be emotionally damaged by a book, but I can make an exception or two, and this is one of those exceptions. The Burning God is the third book in The Poppy War Trilogy. I've read reviews where people have been absolutely sobbing about this book, which is why I've ignored it so long, but I got it for Christmas, so I don't think I can avoid it anymore. The first two books were amazing and, sure, the main character might be going insane and I might be very worried about her, but I will still faithfully read about her until the very last page.
There are a lot more that I want to read, but these are the top three.
About the Contributor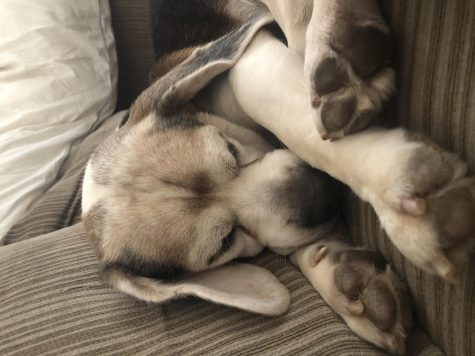 Allykay Williams, staff writer
Hi! My name is Allykay. I am a freshman at Elsinore High School. In my spare time, I like to write, read, draw, and play with my dogs. The dog in my picture...