The Percy Jackson Series
The Lightning Thief by Rick Riordan was originally published in 2005. Over the years, it would become a staple in many young readers' childhoods, including mine. Rick Riordan would eventually go on to write more in the universe such as The Heroes of Olympus and The Trials of Apollo series. I haven't read either of those, but I hope to one day.
The Lightning Thief follows Percy Jackson, a 12 year old kid who can't seem to keep out of trouble, after he finds out that his dad, who he's never met before, is Poseidon, the Greek god of the sea. In The Lightning Thief, Percy is giving a quest with his other two friends to recover Zeus's weapon, the lightning bolt, because most of the gods think Percy is the one who stole it and they have about a week before the gods wage war against each other. During this quest, he hopes to save his mother, who was taken by the god of the underworld, Hades, on his way to Camp Half-Blood, a place where all of the gods' half-human children stay to protect them from monsters.
Rick Riordan is wonderful at making lovable characters. Even when I read it for the first time in fourth grade, I adored all of the characters. Percy, Annabeth, and Grover were hilarious together and Percy's deadpan sort of humor was perfect. Sally Jackson, Percy's mother, is also a big favorite of mine despite the fact that she wasn't present for most of the book. Her love for her son was beautiful and it's a refreshing change to see a healthy parental relationship in a book. The plot is interesting and there's almost never a dull moment and the little instances of foreshadowing are fun to catch when rereading it. The magic system involving the Greek gods is easy to understand and is well explained over the course of the series. I'm currently rereading the series, and I've just gotten to the fourth book. It's still as good as the first time I read it.
About the Contributor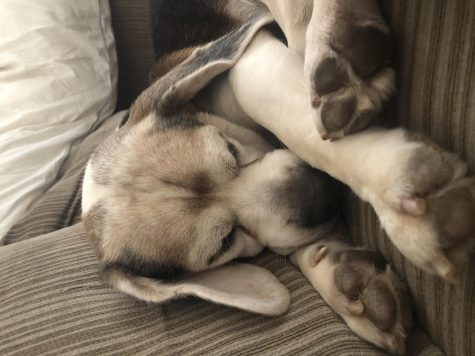 Allykay Williams, staff writer
Hi! My name is Allykay. I am a freshman at Elsinore High School. In my spare time, I like to write, read, draw, and play with my dogs. The dog in my picture...