The Sea of Monsters
The Sea of Monsters is the second book in the Percy Jackson and the Olympians series by Rick Riordan. It follows the events of The Lightning Thief after Percy has recovered Zeus's master lightning bolt and has saved the world from a war between the gods.
The Sea of Monsters starts out with us learning that Percy has yet again been located to another school. During his time at this place, an odd school with beanbags for desk chairs and very little learning, he meets Tyson, a big, lovable goofball who has no family to speak of and is bullied on a daily basis for looking weird.
Upon returning back to Camp Half-Blood after an attack at Percy's school (which he has now been expelled from because he 'kills the vibe'), Percy finds out three things. One, that the tree that protects camp half blood, which is actually a demigod who was turned into a tree, has been poisoned and the camp's protections are becoming weak. Two, Chiron, the activities director but also a mentor of Percy and Annabeth's, has been blamed for this and is being forced to leave the camp. And three, Tyson is actually his half-brother through his father Poseidon. Turns out Tyson's a Cyclops, and his one eye was being distorted by the mist, a substance that disguises monsters from humans.
A lot like the last book, Percy has to go on a quest for a magical item to prevent something detrimental from happening. Because of this, I always regarded this book as my least favorite because it doesn't really do anything that the last book didn't do. Upon rereading it, I found that it's still probably my least favorite in the series, but I still really like it. Tyson brings a lot to the story and more characters are expanded on in a really cool way. The ending hints that the series is going to start going a new direction, and, even having read these books before, I'm still really excited to find out what happens.
About the Contributor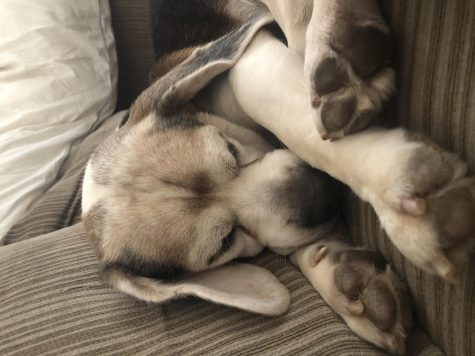 Allykay Williams, staff writer
Hi! My name is Allykay. I am a freshman at Elsinore High School. In my spare time, I like to write, read, draw, and play with my dogs. The dog in my picture...