A Brief History of The Garden
Today's evolving and flourishing societal dynamic allows for artistic expression and freedom in many fields; one field that is particularly progressive in this topic, however, is the music industry. Throughout the years, the public has watched musicians become more courageous and experimental. A specific musical group that has pushed the limits of conventional composition is called The Garden.
Since its original formation in the year 2011, The Garden has continued to evolve their musical sound, constantly breaking new barriers that question the very fundamentals of musical technicality. The Garden is made up of twins, Wyatt Shears (bass) and Fletcher (drums) Shears, who interchange vocal responsibility among their many songs. The Shears twins state in many interviews that they have been producing music since they were young children, and have been inseparable in their endeavors. The Garden was founded in Orange County, California, and is classified by outsiders as experimental rock. However, members of The Garden tend to feel unsure about the true genre that their music falls into. The Garden even created their own genre and mantra, "vada vada," which is defined on their website as, "a term that represents total freedom of expression without boundaries or guidelines of any sort" (thegardenvadavada.com). This term is not only a ideology that they perpetuate in their musical adventures, though, as they also classify the term as a mindset that they continue to expand into all corners of life. For example, they tend to push the limits on fashion as well. Members of The Garden are frequently commended for their stylistic integrity, yet their independence and outlandish style has earned them their fair share of criticism. One way in which Wyatt and Fletcher solidify their imaginative styles is painting their faces to match that of a medieval jester. They claim that this type of makeup style is representative of what they do in life, which is entertaining. It also just looks really cool.
The Garden has released two full length albums as well as four LPs throughout their development as a band. They have also been fortunate enough as the tour all over the world. The mere amount of music that the band has released is quite large, yet they have continuously advertised their opinion of quality over quantity, explaining that their earlier music is much different than their newer releases, and that it is exciting to watch their progress through their many albums.
Though Wyatt and Fletcher Shears are intensely content with their cumulative band, they have also created their own individual side projects in which they produce music that is entirely own, and is composed to their specific preferences. Wyatt Shears is the proud persona that fronts his project entitled Enjoy, which has been playing many venues in California lately. Fletcher Shears's project is called Puzzle, which has been touring America with a band called Flipper. Both of their side projects are quite contrasting to The Garden's music, yet there are also some melodic similarities that can be discovered after careful examination.
Our world is a wonderful place to practice creative freedom without boundaries, and The Garden is an incredible examples of this.   As the music industry continues to evolve, I hope to see many more bands take similar risks in the future.
About the Contributor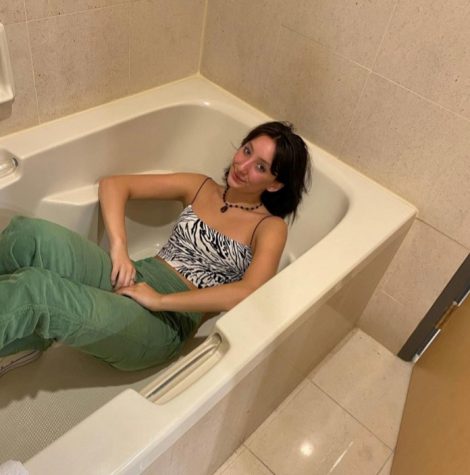 Julia Zitzke (she/her), staff writer
Hi, I'm Julia! I'm sixteen and a junior, and one of three captains of the varsity cheer team. I love music, my friends, films, and my cool cats. I don't...