The Dragon Republic
The Dragon Republic is the sequel to R.F Kuang's novel The Poppy War. This review will contain spoilers for The Poppy War.
The Dragon Republic follows Rin after she was betrayed by the empress of Nikan. Now she's the leader of the Cike because Altan, the previous leader, has been killed because of the empress's betrayal. Rin is now thirsty for revenge and will stop at nothing to avenge Altan.
The story really starts when Rin is recruited by Yin Vaisra, her old classmate's father, to join their cause of starting a civil war across Nikan. Rin joins because she 1. realizes that she doesn't really have a choice and 2. she really wants to kill the empress. It's really the only thing keeping her alive throughout the book.
The Dragon Republic was good, but it wasn't the best the first time I read it. The plot jumped around a lot, and it dragged a little bit around the middle. The second time I read it, though, it was amazing. There was a specific chapter near the end that's really the calm before the storm. Reading it made me so sad because I knew what happened in the next chapter, and seeing all the main characters together and happy made me so angry because I wanted the characters to realize that they were walking straight into tragedy.
Watching Rin's character was also really interesting because she makes some really stupid decisions, but I still love her. She was really struggling to find herself in this book after everything that happened, and it was painful to see her thinking that she wasn't important at all and just another foot solider that was destined to die in war. Though she was really the shining star to me, all the other characters were great, too. My favorites were Kitay, Venka, and Nezha, but the entirety of the Cike was not far behind them.
The Dragon Republic may not be as good as The Poppy War, but it's still really good, especially the second time around.
About the Contributor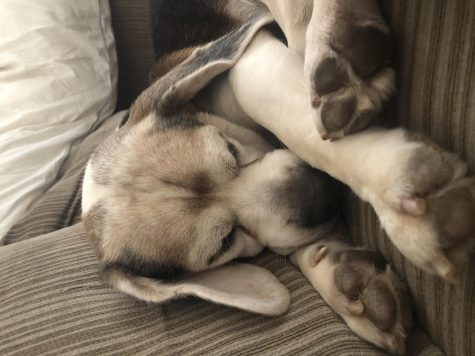 Allykay Williams, staff writer
Hi! My name is Allykay. I am a freshman at Elsinore High School. In my spare time, I like to write, read, draw, and play with my dogs. The dog in my picture...