Mental Stress
In my lifetime I've dealt with many situations of depleted mental health. It is a process that every human being experiences multiple times in their lives. Mental exhaustion can come from unhealthy relationships with family, friends, and partners. It can also come from sports, life experiences, and society as well. Anxiety and depression are the two most common mental illnesses that people experience around the world. Anxiousness can come from simply being around too many people. Being put in crowded situations makes some people feel claustrophobic and can make them have a hard time breathing. In times like those I try to reassure myself that there are not as many people as I think there are and I quietly tell myself everything is okay, this helps me calm down. People who struggle with depression often sleep more than the average person because their mind is more exhausted than others. Sometimes if I feel depressed from any matter, I will often feel so weak that my heart actually feels like it is hurting. The hurting I feel in my heart is a bundle of anxiety that gives me so much stress it has physical effects from my mind to my body. Lately something I've found to help me relieve the ache I get from anxiety is to simply talk to my closest friends. Having a great conversation with my friends or family about how I have been feeling has helped me out in enormous amounts. I could feel the pressure release from my chest when I talk to my friends, so I try to do it often so I don't stress myself out too much. Another method I've done for as long as I can remember is drawing and sketching. Whenever I feel angry I'll make a painting and instantly when I begin the painting I no longer feel mad because I am focused on painting. Small distractions help the mind get from one play to another very easily. Regardless of how stressed or anxious I feel, I always remember that I will be fine in the end and that is all it takes for me to get grounded again.
About the Writer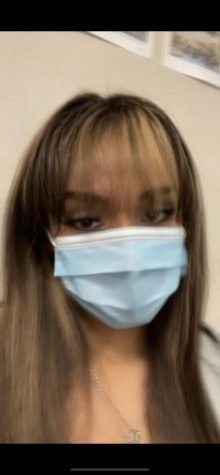 Evangelina Pelayo, staff writer
My name's Evangelina but I mostly go by my nickname, Evi. I've been playing soccer since I was 7 and I am now 16. I have two dogs, Ginger and Goku. My...