Great ShakeOut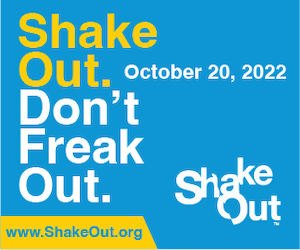 Every year on the third Thursday of October at around 10:20 AM, all schools in California participate for the Great ShakeOut. What is it and why do we drill for it every year?
The main reason the Great ShakeOut was created was to prepare everyone for what you should do when an earthquake occurs. If you are not at school, it only takes a minute or so out of an entire year to practice what you should do or where you should go. If an earthquake is bad enough, it can injure people and even kill people. The organizers of the program wanted to make sure everyone knows what to do when such a situation comes, so the Great ShakeOut was created in 2008 to take place once a day every single year to hopefully save more lives in the future.
A big influence of the Great ShakeOut was the 7.2 magnitude earthquake that reached almost 300 miles in length hitting San Fransisco. It ended up killing 3,000 people and causing half of the people in San Fransisco to be homeless. This is just one of the biggest earthquakes recorded in California, and the fact is that earthquakes still continue to happen and continue to kill more people. Even if most earthquakes do not have the same strength of the San Fransisco earthquake, it still adds to the amount of deaths caused from earthquakes the more often they occur while people do not know what to do once an earthquake hits them.