The Real Bling Ring: A Thread (part 1)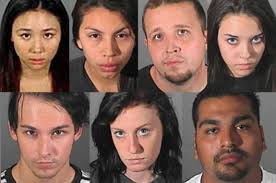 Hang on for a minute...we're trying to find some more stories you might like.
To start this thread off, I'm going to tell you what the bling ring was. It was a group of Calabasas teens who, from October 2008 to August 2009, robbed several different celebrities' Hollywood homes. By the end of it, they had stolen over $3 million in clothes, jewelry, purses, makeup, perfume, etc. from these celebrities' homes. The celebs included Paris Hilton, Audrina Patridge, Rachel Bilson, Orlando Bloom/Miranda Kerr, Brian Austin Green/Megan Fox,  and Linsday Lohan.
It all started with two teenagers named Nick Prugo and Rachel Lee. They met at their high school, Indian Hills, and quickly became "bffs." One day after school Rachel suggested that they go to one of their classmates' houses and break in while he and his family were on vacation; they successfully stole things from the kid's house, but not enough for them to notice of course, and it all went downhill from there. One day Rachel was at Nick's house. They read an article that Paris Hilton was out of town, so they googled her address and decided to go. Nick said they chose Paris because they assumed she was dumb and she would do something like leave the key under the mat.  They got in and looked around, stealing small things because they planned to come back. I googled this to fact-check and actually they didn't need the key because she left the door unlocked.
So here's where the other teens come in. Alexis Neiers, Tess Taylor and Courtney Ames were friends of Rachel. They told Alexis, Tess, and Courtney about robbing Paris and they decided to all go to her house again. They tried on her clothes and stole a few dresses, stuffing them in a near by Louis Vuitton duffle bag. Nick also said that Paris had quite a collection of drugs in her "party room" which include a disco ball and a stripper pole. They did some of her drugs and then drove around Hollywood having the time of their lives. They ended up robbing Paris three more times before she ended up noticing, which I'll talk about later in the thread. Their next target was Audrina Patridge, who actually caught them breaking in on her surveillance cameras. They got in through an unlocked door and stole over $43,000 worth of things from her home. Next was Rachel Bilson–they ended up robbing her home 3-6 more times, stealing up to $300,000 from her. They next robbed the home of Orlando Bloom and Miranda Kerr.  Nick said it was because Miranda was a Victoria's Secret model and she wanted her lingerie. They also stole their home decor because Rachel was moving to Vegas soon and she wanted things to decorate her new room. . . to be continued. . . .