America Needs to End the War on Drugs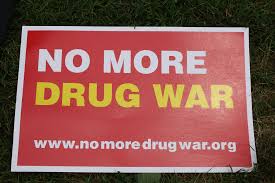 Hang on for a minute...we're trying to find some more stories you might like.
Throughout this great country, marijuana is legalized or decriminalized for recreational use in California, Washington, Oregon, Washington D.C., Alaska, Nevada, Colorado, Vermont, Delaware, Connecticut, Illinois, Maine, Massachusetts, Minnesota, New Hampshire, New York, North Carolina, and Rhode Island. It is also legalized for medical use in at least 29 states plus the nation's capital. However, despite 60% of states agreeing on its medical benefits and several states voting on it to be used by adults 21+ for recreation, marijuana remains a Schedule 1 drug, which is the same level as heroin, on the DEA (Drug Enforcement Administration)'s list of classified substances, while methamphetamine and cocaine are classified as Schedule 2 drugs. This means that according to our government, marijuana is far more dangerous than cocaine or methamphetamine.
It is so preposterous that cannabis, a naturally grown plant that has been proven to have positive health benefits on medical marijuana patients worldwide and has never been the direct cause of an overdose-related death in history is classified as more dangerous than "coke" or "meth" which have both killed millions of people to date. Also, alcohol and cigarettes remain legal, yet they also kill millions per year.
The War on Drugs in this country is such a waste of money. On average, American taxpayers spend over $50,000 annually per prisoner. It is a proven statistic that 750,000 people are arrested on average per year in the United States on marijuana-related offenses. That is $50,000 times three quarters of a million people per year. That is 37.5 billion dollars per year. When Senator Bernie Sanders ran for President back in 2016, he had a plan to bring forth universal, tuition-free college for all, a plan that would cost approximately $70 billion per year. This means for every two years of not imprisoning marijuana offenders in this country, we could send any American who wanted to go to college for a year for free. Also, the cost for rehab on average is only about $7,000 per year. We should be using taxpayer money to pay for drug offenders to get treatment, not to go to for-profit private prisons with violent offenders just to come out of these prison systems to a society that won't accept them. Citizens with non-violent felony records have a high rate of recidivism because their criminal record makes it hard for them to get the well-paying jobs that they need in order to move on from their past and really get their livee together.
This country needs to reform many of its laws, and removing the DEA, or at least its classification of marijuana as a Schedule 1 drug, and ending the horrendous war on drugs and installing a rehabilitation over imprisonment program would be not only cost-effective but also the best way to give non-violent drug offenders and their families the chance to really change their lives for the better.