Juliano Bonilla
Hang on for a minute...we're trying to find some more stories you might like.
How do you stay positive on a day to day basis?
"Well, I start out my day by waking up at 6:30 every morning. I brush my teeth, wash my face, comb my hair, and definitely, MOST DEFINITELY, feed my fish Tfu. After that I go downstairs and make my protein shake and fill up my water bottle. Then I get in the car and drive to school. Then I get to school, and if its a Wednesday, then you already know I wake up happy for dat donut Wednesday, boiiii!!! But if it's every other day, then I hang out in the career center with my girlfriend. Then once the bell rings I go to class and then I start listening to music or watching Fortnite videos. So basically that happens first through third period, but fourth period is when the tiger comes out of the cage, rufff. So in fourth period I have Hernandez for Economics, and I talk with my boys, Bryan Lemus, Ezekiel, Christian, Phoenix, Lorenzo, David, and Ketzaly #squad #escooter. Then at lunch I hangout with my friends, and we just gossip about dogs and life. Ummmm then school ends and I drive my sister home, get ready for drama and I'm on my way. Now when I'm in the car on my way to drama, you already know we bumpin Adele. Then I get to drama and I just, you know, all I do is dance there, so just dance for two hours then I take Ketzaly home and get ready for work. Now work, that's where it gets real fun. I'm not sayin you should work at Dominoes but its fun as hecky. So for about four hours, I'm just cracking jokes, and slappin pepperonis on pizzas. Then I go home after my shift, and workout for about 35 minutes to an hour. Then I eat my bomb dinner that my grandma made #blessed. Then I go upstairs, take my shower, feed Tfu, read him a little bedtime story, and go to bed happy. Now you may be asking, what does this story have to do with being happy all the time? As you have read, I don't have any snakes, fakes, or even cakes, and I just focus on my positivity. So to conclude, focus on yourself, don't worry about what others think, and think that you're the best and know that you're the best… or just live like me.
About the Writer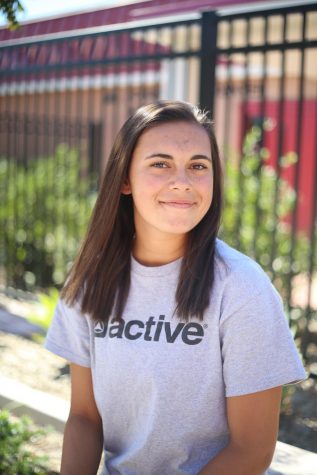 Breanna Sanchez, Staff Writer
Breanna is a senior at Elsinore High who is one of our varsity girls golf co-captains. What she enjoys most is hanging out with friends and family. She sees herself in the future as a successful sports manager for only the best sports team in the US and playing golf with Rickie Fowler every weekend.