My Experience: JV Boys Tennis
Hang on for a minute...we're trying to find some more stories you might like.
My friend Logan Bronowicki was on the JV Boys tennis team last year and always told me his tennis experiences. I had never played on a tennis team before, so I didn't understand anything he would tell me, but I would listen anyway. I remember how much fun he always had playing tennis and how happy it made him to work hard on the team. He convinced me to join the tennis team this year, and I am so glad I did.
My first day at practice I didn't even know the proper form for hitting a tennis ball. I did not know what the terms "forehand" and "backhand" meant. I didn't know jack-diddly-squat, but I did know I was having fun. I started to remember how much I loved sports and exercising when I would attend practice every day after school. I made some great friends on the team: Nick, Ethan, Angel, Joel, Kade, and Keenan. My coach, Coach Gross, always pushes me to do my best. I'm really thankful to have her as a coach.
I've definitely seen myself grow as a tennis player and as a person through the program. In fact, Coach Gross even named me co-captain. I've played singles (1 on 1) by myself before, and doubles (2 on 2) matches with almost every teammate. Some matches were close, some were big losses, and some were amazing shutout victories. All in all, I learned you win some, you lose some, and you need to be proud of yourself and always work your hardest no matter what. Leave everything on the court. We have two matches left: one away game against Lakeside, and one home against Temescal Canyon. Wish us luck!
About the Writer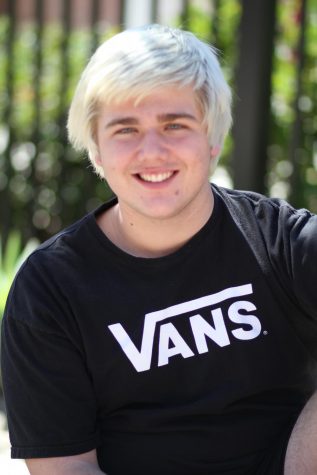 Tyler Ferguson, Managing Editor
Tyler Ferguson is an 18-year-old senior at Elsinore High School, in his second year of journalism. Previously raised in south Orange County, he moved to Wildomar in June 2015. During his free time, he enjoys hanging out with his friends, going to the beach, studying politics, singing, and watching movies.