Why is America so Politically Divided?
Hang on for a minute...we're trying to find some more stories you might like.
Talking about political issues in 2018 can get pretty heated and debatable. People in this country are so divided because of their political views, it's almost scary. Political issues such as immigration, abortion, gun control have become increasingly controversial ever since the 2015 presidential campaigns.
The majority of voters in this country strongly identify with their political parties. Liberals and conservatives are always going head to head when it comes to debatable topics. These political splits have impacted friendships and relationships. This gap of political division is only getting wider.
According to a new report from the Pew Research Center,"The divisions between Republicans and Democrats on fundamental political values—on government, race, immigration, national security, environmental protection, and other areas—reached record levels during Barack Obama's presidency," Pew's report states. "In Donald Trump's first year as president, these gaps have grown even larger."
People look up to the person who represents the political side they identify with. In the presidential run for office, Donald Trump greatly impacted those who identified as conservatives and "forgotten," therefore, winning the electoral vote. Hillary targeted mostly social issues and progressiveness rather than going back, which is what Trump wanted. That is why Donald Trump's campaign slogan was "Make America Great AGAIN." So there is obviously a huge difference in views which is what caused this split.
This division can only be mended when people come to the realization that we are all human beings. America is a wonderful country because of freedom of speech and expression. That is a good thing. Division, however, is not. If we do not unite, division will only grow and people will still be angry.
About the Writer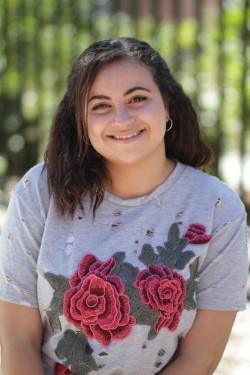 Carol Saad, Staff Writer
Carol Saad is a seventeen-year-old junior at Elsinore High School. She loves to meet new people, go on adventures, and make memories. She is a singer-songwriter who plays guitar and hopes to share her talents with the world someday. Carol loves to assist people with anything and hopes to make a difference in the world....