Graduation Frenzy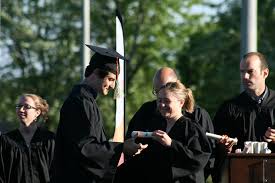 Hang on for a minute...we're trying to find some more stories you might like.
I can't believe graduation is so close, it seems like this school year just flew by so quickly! On that note, I have been starting to talk about graduation with my friends and I've noticed that we will probably have a lot of disagreements and maybe some arguments we will see as some seniors are walking. I say this because a lot of us have divorced parents and so on. So when some of my friends' parents see each other they might be able to tolerate each other for a little bit but who knows how it might go.
For example, I live with my aunt and uncle so they're coming to my graduation, however, my mom might come and I'm not on the best terms with her so if she comes things might get a bit messy. This is what I'm talking about though. It doesn't just have to be divorced parents making your graduation awkward but it can also be your own relationship with your own parents. For my mom to come to my graduation as if she's been here for me supporting me, it doesn't feel quite right. However, I hope graduation is a good, proud family moment for you guys, and if you feel awkward, know you're not alone.
About the Writer
Amber Nefzger, Staff Writer
Amber Nefzger Garcia is a girl from Cancun, Mexico and was born and raised there. She moved to California about a year ago and although she misses her home and family back in Mexico, she is content here. She has always moved around from place to place, moving from Mexico to LA, to Texas, back...