Thanos!? In Fortnite?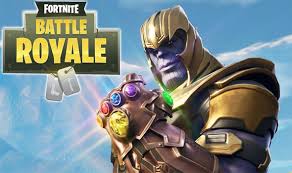 Hang on for a minute...we're trying to find some more stories you might like.
The newest addition in the Fortnite Battle Royale community is the new LTM ( limited time mashup) to play as the newest Marvel villain, Thanos. His weapon of choice? The infinity gauntlet.  Your attacks of choice are: a laser, a devastating punch, and a jump which you can shoot your laser or slam into the ground.
The way to play as Thanos is that the gauntlet will crash down from the sky. First person to get to where it landed will wield the power of the gauntlet. In for some reason you land too far or you're just lazy, you can take Thanos down to zero health and he will drop it. As soon as you equip it, you will be spawned into the air and glide back down to the ground.
Be careful! Other players want it as well. So be sure to  build against them.
Thanos does not care about puny human buildings and contraptions.