Skin Care for the Summer
Hang on for a minute...we're trying to find some more stories you might like.
We all want beautiful moisturized glowing skin this summer. Here are some serums that help treat troubled skin. These treatments are filled with ingredients that assist the skin to look its best.
 Joanna Vargas Daily Serum, $85 – This product is a bit expensive but the price is worth it. If you want a beautiful complexion this summer, then this serum is for you. This serum is filled with chlorophyll to oxygenate the skin. It also has hyaluronic acid to hydrate the skin and give you that beautiful complexion. This is available on birchbox.com
Ren ClearCalm 3 Replenishing Night Serum, $30 – This overnight serum is great for dry and acne irritated skin. It is also really good because it moisturizes the skin without clogging the pores. This is available at Sephora.
 DermaDoctor Ain't Misbehavin' Medicated Acne Control Serum, $45 – If you want your acne to disappear, then this serum was made just for doing that. The salicylic acid in this serum clears clogged pores. The tea tree in this serum oil flushes out bacteria. This is available at Ulta.
First Aid Beauty Anti-Redness Serum, $34 – Relax your skin this summer with this serum.  This product relieves visible redness and is safe for sensitive skin. This is available at Sephora.
About the Writer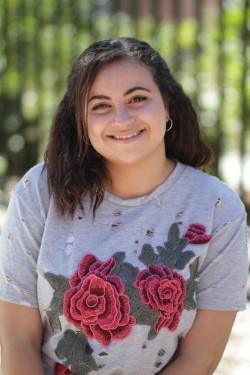 Carol Saad, Staff Writer
Carol Saad is a seventeen-year-old junior at Elsinore High School. She loves to meet new people, go on adventures, and make memories. She is a singer-songwriter who plays guitar and hopes to share her talents with the world someday. Carol loves to assist people with anything and hopes to make a difference in the world....