Water Bottle vs. Water Bubble
Hang on for a minute...we're trying to find some more stories you might like.
Would you like to have your water in an edible bubble instead of a bottle? Drinking water from a bubble might seem fun and also will be good for the earth because it cuts out harmful plastic waste that interferes with aquatic ecosystems. These edible bubbles are made out of a chemical from seaweed. The edible water bottle is a blob-like water container made from sodium alginate gel. The biodegradable blob was created by Skipping Rocks Lab in an attempt to make a more environmentally friendly alternative to single-serving plastic bottles. People throw out approximately 35 billion plastic bottles per year. Also, the membrane of the bubble can be colored or flavored. Usually the bubbles are used for athletes. They are also cheaper to make than plastic bottles. In conclusion, people might be scared to try these bubbles because they don't know much about them and if they can turn out to be harmful, but they might be better for the earth.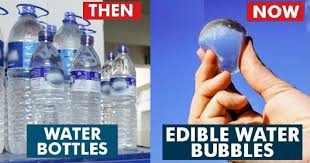 About the Writers
Gizelle Mora, staff writer
Gizelle Mora is a 17 year old senior at Elsinore High School. She enjoys hanging out with friends and family.  Her favorite place to go is the beach. Her favorite color is blue. After she graduates high school she wants to go to college and study to be a pediatrician. Her favorite thing to do on her free time is watch movies. She enjoys going to North Carolina and San Diego to visit and spend time with her family.  
Daisy Meza, staff writer
Daisy Meza is 17 years old, she is a senior attending Elsinore High School. After she graduates she would like to attend Cal Poly for her nursing degree. On her free time, she likes to spend time with family and friends. She also enjoys swimming with her team mates at Elsinore High School.