Banned from Using Phones at School?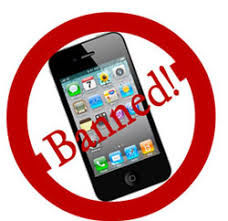 Hang on for a minute...we're trying to find some more stories you might like.
California students could be restricted or banned from using smartphones at school under a bill by a state lawmaker who says the devices can interfere with classroom learning. The measure by Assemblyman Al Muratsuchi (D-Torrance) would require school boards to adopt policies that limit or prohibit the use of cellphones on school grounds, leaving it up to them what their rules would do. They want to ban phones because it is said that they are a distraction and test scores have gone down.
Last month, the Palos Verdes Peninsula Unified School Board adopted a policy requiring children in grades K-5 to have cellphones turned off and stored out of sight during school hours, while older students face similar restrictions but can obtain teacher approval to use a smartphone for academic purposes.
In Kerry, Ireland, one school has restricted children's use of smartphones and social media, not only in school but also outside school hours, with the full support of parents. In Scotland, the Parliament has considered putting limits on student's cellphone use in schools. In July 2018, the French government banned all students under the age of 15 from using smartphones during school hours. Many teachers and parents believe that smartphones disturb children and harm their learning in school. In the Canadian province of Alberta, for example, 3 in 4 teachers believe that students' ability to focus on educational tasks has decreased in the past five years.
About the Writers
Gizelle Mora, staff writer
Gizelle Mora is a 17 year old senior at Elsinore High School. She enjoys hanging out with friends and family.  Her favorite place to go is the beach....
Daisy Meza, staff writer
Daisy Meza is 17 years old, she is a senior attending Elsinore High School. After she graduates she would like to attend Cal Poly for her nursing degree....