Funny Movies to Watch This Summer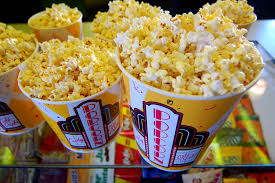 Hang on for a minute...we're trying to find some more stories you might like.
Step Brothers: Brennan Huff, a sporadically employed thirty-nine-year-old who lives with his mother, Nancy. Dale Doback, a terminally unemployed forty-year-old who lives with his father, Robert. When Robert and Nancy marry and move in together, Brennan and Dale are forced to live with each other as step brothers. As their narcissism and downright aggressive laziness threaten to tear the family apart, these two middle-aged, immature, overgrown boys will orchestrate an insane, elaborate plan to bring their parents back together. To pull it off, they must form an unlikely bond that maybe, just maybe, will finally get them out of the house.
Wayne's World: As slackers Wayne and Garth struggle to promote their public access cable show, Wayne's World, Wayne falls for a up-and-coming rock star, Cassandra. Using their connections, the two try to help her career get off the ground, only to have her taken away by their sleazy advertiser.
Grown Ups: Five friends and former teammates reunite years later to honor the passing of their childhood basketball coach. With their wives and kids in tow, they spend the Fourth of July holiday weekend together at the lake house where they celebrated their championship years earlier. Picking up where they left off, they discover why growing older doesn't mean growing up.
Grown Ups 2: In this follow up to the hilarious first movie, a group of childhood friends reunite for another "grown up" adventure. Hollywood agent Lenny Feder has moved his family from the big city to his quiet home town, where he and his best friends—Eric Lamonsoff, Marcus Higgins and Kurt McKenzie—grew up. The tides have turned, and now, on the last day of school, it's up to the children to teach their parents some lessons…
Dumb and Dumber: Lloyd Christmas and Harry Dunne are two intellectually-challenged best friends who share an apartment so messy that gangsters aren't sure how to trash the place; the guys also have a certain problem (not difficult to understand) holding on to jobs.Lloyd is working as a limo driver in Rhode Island when he picks up a beautiful and wealthy woman named Mary Swanson who is being taken to the airport. Lloyd immediately falls head over heels in love with Mary, and when she leaves a briefcase at the airport, he's determined to return it in hopes of impressing her.Lloyd isn't able to get aboard Mary's flight (though not for lack of trying). Harry has a van decorated to look like a dog (to promote his failing dog-grooming business), and the pair hop in the Poochmobile to find Mary in Aspen.

What Lloyd and Harry don't know is that the briefcase is full of money, which Mary deliberately left at the airport as a ransom payment to save the life of her kidnapped husband.

Dumb and Dumber To: Lloyd, who has successfully faked a mental illness for 20 years, meets up with Harry once again to join forces in another wacky adventure. This time, Harry discovers he has a daughter. The two old pals set out to find her, with Lloyd determining to make her fall in love with him. Along the way they fall into their old, dumber-than-dumb habits.
We're The Millers: David Burke is a small-time pot dealer whose clientele includes chefs and soccer moms, but no kids—after all, he has his scruples. So what could go wrong? Plenty. Preferring to keep a low profile for obvious reasons, he learns the hard way that no good deed goes unpunished when he tries to help out some local teens and winds up getting jumped by a trio of gutter punks. Stealing his stash and his cash, they leave him in major debt to his supplier, Brad. In order to wipe the slate clean—and maintain a clean bill of health—David must now become a big-time drug smuggler by bringing Brad's latest shipment in from Mexico.Twisting the arms of his neighbors, cynical stripper Rose and wannabe customer Kenny, and the tatted-and-pierced streetwise teen Casey, he devises a foolproof plan. One fake wife, two pretend kids and a huge, shiny RV later, the "Millers" are headed south of the border for a Fourth of July weekend that is sure to end with a bang.
The Happytime Murders: In a world where puppets co-exist with humans, hard-boiled puppet detective Phil Phillips a former cop, sets off on the trail of the serial killer who murdered his brother. The killer, who is now targeting the cast members of the 1980s television series The Happytime Gang, has set his sights on Phil's former girlfriend, Jenny. Phil teams up with his former police partner, Detective Edwards, to find the culprit, but as more and more clues surface, Phil begins to look like the only possible suspect. Not  only does he have to find the killer, but in the process he hopes to clear his name.