Barcelona vs Real Betis Review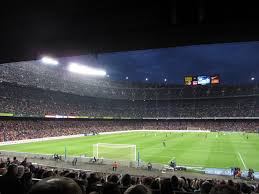 Hang on for a minute...we're trying to find some more stories you might like.
Barcelona played Real Betis at home and it what a game it was. This game was for Antonie Griezmann to shine as he was the only natural and experienced forward for Barcelona and he did. Griezmann scored 2 goals and getting an assist. This game also was a great one for the young player, Carles Perez. He scored his first ever competitive goal for Barcelona. Barcelona had to make a comeback as well as they went 0-1 down. It was about to be half time and Barca were going to be down but Griezmann got a great through ball by Sergio Roberto and he scored right before half time. The second half began and Barca were putting pressure on Betis and passing the ball around. They got rewarded for it as they got a 2nd goal and again it was Antonie Griezmann again also assisted again by Sergio Roberto. Both of them did a one two and Griezmann was on the edge of the box and the defenders gave him a little bit of time to shoot and Griezmann took it and he beat the goalkeeper. Barcelona were high on confidence now, especially Griezmann.
This game also made Barcelona history as Ansu Fati became the youngest player to play for Barcelona, he was 16 years old. He almost scored as well as his shot was just inches wide.
This game was great as Barcelona proved they can win without Lionel Messi and showed their youngsters can play.