The Tenaja fire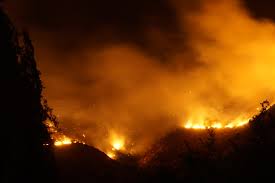 The Tenaja fire started on September 4,2019 at 4:43 pm on a Wednesday in Murrieta, California. Within 14 hours the fire spread 1,400 acres and it destroyed everything in its path from trees, bushes and old plants. Firefighters say they had no idea what caused the fire and they're investigating what happened. Over 700 firefighters came to help out put out the fire over in Murrieta, people from Riverside county, Cal Fire and the Murrieta fire department and many more. Also planes came and dumped water on the fire so they could try and put it out and other planes came to throw a pink dust so they could contain the fire and also put it out near houses and neighborhoods. So in total the Tenaja fire burned 1,926 acres around Murrieta and 92 percent is contained.
About the Writer
Brandon Larios, staff writer
Brandon Larios is a Senior at Elsinore High School. He likes playing video games and hanging out with his friends. He also likes to drive even though...