The Good Game
Hang on for a minute...we're trying to find some more stories you might like.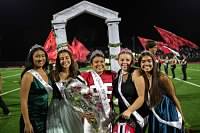 Last week the Elsinore Tigers welcomed the Banning Pilots to the field. Banning took the lead during first quarter leaving the score 0-7. During 2nd quarter, #2 Timothy Goodman scored the 61 yard touchdown, but the Pilots were still in the lead by second quarter leaving the score at 35-30. During half time, Varsity player Sam Segura-Veliz was announced as the 2019 homecoming queen.
As soon as the game resumed, both teams were putting on a good a fight. The Tigers were down by 2 points, leaving them enough time to get the win during 4th quarter. By 4th quarter, the Tigers scored a rushing touchdown leaving them in the lead 39-35, then 41-35 when #37 Gemini Batimana rushed for the 2 point conversion. The pilots were still fighting hard with 5 minutes left in the quarter.
The Pilots score a touchdown with a good field goal, and now the Pilots are in the lead 41-42. The Tigers did not give up and put up a good fight until the very end. With less than 5 seconds left in the game, #86 Michael Sandoval scored the winning field goal, leaving the score 44-42.  Both teams played well and gave it all they had.