EHS Annual 6V6 Co-Ed Tournament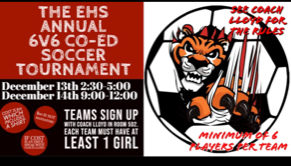 Hang on for a minute...we're trying to find some more stories you might like.
Mr. Lloyd hosts an annual 6v6 tournament that allows all students at EHS to join because it's Co-Ed. It's December 13th, 2:30 to 5:00, and December 14th 9:00 to 12:00pm. Each team must have at least one girl on the team. If you want to sign up see coach Lloyd in 502. Coach Lloyd will have all the rules with him when you sign up. The coast is $10 with a shirt for your team. If cost is a problem, see coach Lloyd.