Thanksgiving is Coming!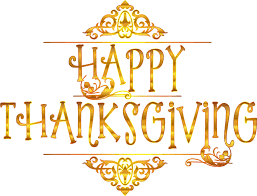 Right around the holidays families begin to get more and more stressed. Maybe it's because they are hosting Thanksgiving this year or they have to drive for hours to get to where Thanksgiving is being hosted. Or maybe it's that they can't afford to do any of those things at all. Whatever the reason may be it is important to be thankful for what we have, because many others aren't. This year while also being thankful for everything you have, maybe see if you can do anything for those who are less fortunate than you. This could be by donating to the canned food drive that is going on right now, or even just giving a snack to a fellow student who doesn't come to school with one often or at all. If you wanted to be even more generous, you could donate your time to a soup kitchen that helps feed the needy. You may not even have to go that far, maybe you know a neighbor who can't afford to celebrate, so you could always invite them over! It's important to think about others during the holidays and what you can do for them. Happy holidays!
About the Writer
Alyssa Volker, staff writer
Alyssa is a very nice but is very shy at first. She doesn't like having to talk to new people and she would rather be at home not having to deal with...