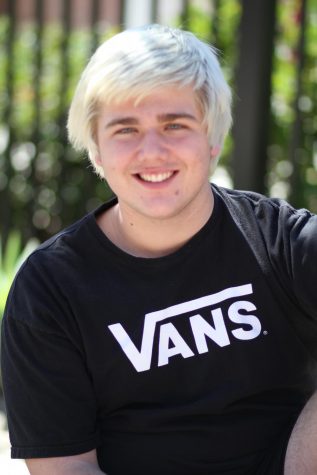 Tyler Ferguson is an 18-year-old senior at Elsinore High School, in his second year of journalism. Previously raised in south Orange County, he moved to Wildomar in June 2015. 
During his free 
time, 
h
e
 enjoys 
hanging out with his friends, going to the beach, studying politics, 
singing, and watching movies. 
Tyler Ferguson, Managing Editor
May 18, 2018

Reviewing the 2017-2018 Yearbook

(Story)

May 17, 2018

What I Will (and Won't) Miss at Elsinore

(Story)

May 14, 2018

Why You Should Sign Up for Digital Communications (Journalism)

(Story)

May 03, 2018

Why I Write About Controversial Topics

(Story)

May 02, 2018

Happy Birthday Pricilla Jansen!

(Story)

Apr 30, 2018

Tampons and Maxi-Pads Should Be In The Boys Bathroom Too

(Story)

Apr 26, 2018

Fortnite is Stupid

(Story)

Apr 23, 2018

Popular DJ, Avicii Dies

(Story)

Apr 20, 2018

My Experience: JV Boys Tennis

(Story)

Apr 18, 2018

Staff, Stop Trying to Censor and Classify Journalism Students

(Story)

Apr 17, 2018

Blood Banks Are Homophobic?

(Story)

Apr 12, 2018

Do You Have a Toxic Friendship?

(Story)

Mar 23, 2018

Making My College Admissions Decision

(Story)

Mar 22, 2018
Mar 21, 2018

From New Kid to Winter Formal King

(Story)

Mar 20, 2018

America Needs to End the War on Drugs

(Story)

Mar 19, 2018

"Everything Sucks" — Netflix Show Review

(Story)

Feb 22, 2018

2018 Midterm Election

(Story)

Feb 14, 2018

Censorship on Campus

(Story)

Feb 12, 2018

Celebrity Big Brother – Three Night Premiere Event Review

(Story)

Feb 02, 2018

Spotlight on Allisyn Ando

(Story)

Jan 26, 2018

Spotlight on Juliano Bonilla

(Story)

Dec 19, 2017

EHS Students on Politics

(Story)

Dec 13, 2017

Doug Jones Wins Alabama Senate Race in Upset Victory

(Story)

Dec 13, 2017

Celebrity Big Brother Set to Air in February 2018

(Story)

Dec 04, 2017

Spotlight on: Maggie McGuire

(Story)

Nov 30, 2017

Big Brother Season 19 Review

(Story)

Nov 14, 2017

Cherishing Childhood While Embracing Adulthood

(Story)

Nov 03, 2017

Elsinore vs. Temescal Varsity Football Game

(Story)

Oct 31, 2017

2020 Election Prospects

(Story)

Oct 18, 2017

Elsinore's Gay-Straight Alliance Club Forms

(Story)

Oct 16, 2017

Trump's Lowering Popularity

(Story)